---
Sarajevo Study Trip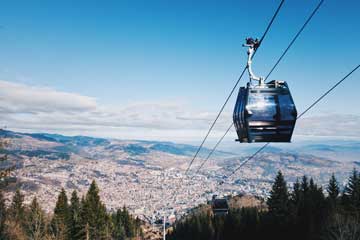 2021 Virtual Sarajevo Study Trip
Due to the pandemic the 2021 on-site edition of the Sarajevo Study Trip has been canceled. However, the CCSDD is organizing a "Virtual Sarajevo Study Trip" which will consist of a series of online events involving international organizations in BiH, the Srebrenica Memorial Center, and will include a movie night. The CCSDD invites all SAIS students to participate.
Events:
Next events (dates TBD):

OSCE BiH
UNHCR BiH
UNDP BiH
EU Delegation in BiH
World Bank BiH
Movie night: Quo vadis, Aida?
Past Sarajevo Study Trips
The aim of the study trip is to give students the opportunity to meet with representatives of organizations currently engaged in post-conflict reconstruction, human rights issues and democratic development. The study trip will present to students some of the challenges involved in a real world post-conflict situation.

Spaces have been limited to 20 participants. Tentatively, 10 spots are available for SAIS Europe students, and 10 spots are available for the University of Bologna students.

A preliminary information session will be held in October in the SAIS Penthouse (Via Beniamino Andreatta 3, Bologna, Italy). Everyone interested in being selected for the trip is strongly encouraged to attend, as all relevant information regarding the application procedure will be provided during the meeting.

Click here for more information on Bosnia-Herzegovina (history, selected readings, relevant websites.)

The Estimated Total Cost of the Trip: 350-450 euro. A 100 euro deposit is required: SAIS Europe students will give the deposit to the business office while students from the University of Bologna will give it to the CCSDD; the deposit will be refunded after completion of the trip. Students will be responsible for making their own travel and accommodation arrangements in Sarajevo.

Please note, we reserve the right to make slight changes to the program of visits.
For more information about the Study Trip, please contact Carna Pistan (cpistan@jhu.edu).

A preliminary information session will be held in October in the SAIS Penthouse (Via Beniamino Andreatta 3, Bologna, Italy)
Meetings with leaders from the following organizations took place during the 2020 Study Trip:
Constitutional Court of BiH
World Bank
Women of Srebrenica Association
European Union Delegation
OSCE
UNHCR
UNDP