Expand. Exchange. Experience.

2023 Edition
July 2 - July 8
Udine, Italy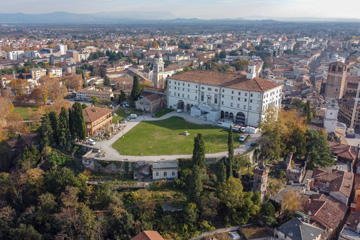 After 20 years in which 500 students and scholars from 30 countries travelled to Igalo, Montenegro to attend the European Union & Legal Reform Summer School, a weeklong post-graduate course, the CCSDD is pleased to announce that the 2023 edition of the EULR will be held in Udine, Italy.

PRIMARY ACTIVITIES
Lectures
Roundtable discussions
Trips to cultural sites
SUMMER SCHOOL DONORS

Center for the Study of Democratic Institutions (CSDI)
Sir Richard May Balkan Programme
---
2023 Edition

July 2 - July 8

Where: Udine

Schedule: Schedule 2023

Application deadline: June 4th

To whom: final-year undergraduate students and graduate students in Law and Political Science, as well as young professionals and scholars.



Summer school program coming soon!

APPLY HERE!

You can see EULR 2022 programme here.

---
Experience Udine

Situated in the center of Friuli-Venezia Giulia, Udine is an elegant city surrounded by open plains, and characterized by Gothic and Renaissance architecture. Udine is located in the region of Friuli-Venezia Giulia close to the borders of Austria to the North, Slovenia to the East and the Adriatic Sea on the South. The city is the historical capital of Friuli. Udine can be easily reached by train, bus or plane (only 40km from the Trieste Airport).
FAQs

Am I eligible to apply?

The summer school is open to final-year undergraduate students and graduate students in Law and Political Science, as well as to young professionals and scholars. Our ideal candidate will have a solid background knowledge in European Law and an understanding of the mechanisms of EU enlargement.

What is the application process?

To apply for the Summer School, please fill out the application form. The CCSDD does not accept any additional materials such as CVs, recommendation letters etc.

What are the costs of participation?

The full cost of tuition, accommodation in double room and food during the time of the summer school is 850,00 EUR. We do, however, offer a number of partial and full scholarships. While selection of applicants will be based on the academic merit of the applications, those willing to bear the participation costs fully or partially will be preferred in case of equally strong applications.

What does the program of the summer school look like?

The primary activities consist of lectures and roundtable discussions. Every year we also organize a boat trip and a visit to cultural sites. To get a better idea of what to expect, you can visit our Facebook page.

When will I be notified about the selection results?

The first deadline to submit your application is May 1st, and the second is May 20th. (EXTENDED DEADLINE 4 JUNE) You will be notified about the selection results at the latest by May 25th and June 15th (second application deadline).

---
Project Goals & Vision

The vision of the EU & Legal Reform Summer School is to create a dynamic network of scholars and practitioners who will work to enact critical reforms as the EU expands. For the past 20 years we have worked towards this goal in two ways:

We have brought together a diverse group of young legal scholars who we hope will eventually assist in legal reform and European integration processes in their respective countries and on the EU level.
We have initiated a fruitful exchange of experiences and best practices during and after the Summer School that may lead to future transnational projects.

Here at the CCSDD, we believe that for true integration into the European Union to take place, European law needs to be fully incorporated into every aspect of domestic legislation. In order to harmonize the current South Eastern European legal systems with those of EU countries, as well as cultivate groundbreaking legal thinking, it is essential to develop, train, and disseminate innovative teaching methods to young academics. In so doing, we can create a new generation of receptive and open-minded lawyers who will play a critical role in the process of reform.