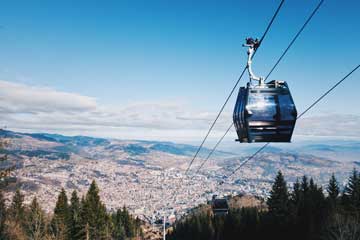 Each year, the Center for Constitutional Studies and Democratic Development invites students from Johns Hopkins SAIS Europe and the University of Bologna to participate in a five-day study trip to Sarajevo, Bosnia-Herzegovina during the January semester recess.

The aim of the study trip is to give students the opportunity to meet with representatives of organizations currently engaged in post-conflict reconstruction, human rights issues, and democratic development. The study trip presents to students some of the challenges involved in a real-world post-conflict situation.

Spaces have normally limited to 20 participants. Tentatively, 10 spots are available for SAIS Europe students, and 10 spots are available for the University of Bologna students.

A preliminary information session is typically held in October or November in the SAIS Penthouse (via Beniamino Andreatta, 3, Bologna - Italy). Everyone interested in being selected for the trip is strongly encouraged to attend, as all relevant information regarding the application procedure is provided during the meeting. A link to the recording of this event is then posted after the event.

The Estimated Total Cost of the trip typically ranges between 400-550 Euros (including flights, accommodations, meals, etc.). A €100 deposit is required to secure your spot. SAIS Europe students make their deposit to the business office (via PayPal) while students from the University of Bologna make payment to the CCSDD; the deposit is then refunded after completion of the trip. Students are responsible for making their own travel and accommodation arrangements in Sarajevo but are welcome to coordinate these arrangements together. Students are required to commit to attending the entirety of the trip; it is not acceptable to arrive late or depart early.

Click here for more information on Bosnia-Herzegovina (history, selected readings, relevant websites).

For further information, please contact the trip coordinator.

For detailed information about the most recent past edition, please see the Most Recent Edition section below.
---
Upcoming Edition (January, 2024)


Details for the 2024 edition are not yet available at this time. Check back in the fall for updates.


Most Recent Edition (January 21-26, 2023)


Estimated Total Cost: 400-550 euros +-
Criteria: Available here
Participating Organizations:

Directorate for European Integration, Bosnian Council of Ministers
Al Jazeera Balkans
Snaga Žene
European Union delegation/EU Special Representation
World Bank
Organization for Security and Cooperation in Europe
United Nations (UNDP, UN Resident Coordinator)
US Embassy
Presential adviser Haris Imamović
Past Editions


2023

28 Years After the Srebrenica Massacre: A Community Rebuilt?
The Women of Srebrenica
Reflections on Sarajevo

2016

CCSDD Sarajevo Study Trip 2016
Sarajevo Study Trip 2016

2015

Personal Insights from Sarajevo

2014

Sarajevo Part III: The Long Road to Transitional Justice and the Challenges Ahead
Sarajevo Part II: Parallels between Bosnia and Bolzano
Transmissions from Sarajevo

2013

Sarajevo Study Trip