Main Researcher: Dr. Francesco Biagi

The so-called "Arab Spring" involves several countries characterized by geographical proximity, similar culture and religion and, until recently, an authoritarian (or semi-authoritarian) regime. Through a legal analysis of the processes of transition in the countries of North Africa involved in this process (i.e. Morocco, Tunisia, Libya, Egypt and Algeria), the project aims at identifying the reasons why these countries, despite the analogies mentioned above, have chosen different constitutional paths to try to abandon the previous regimes and attempt to establish a democratic State. Thus, the legal analysis represents an instrument to give political answers to the processes taking place in North Africa.

Results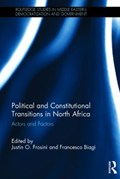 The main result of this project consists of the book edited by Justin O. Frosini and Francesco Biagi on "Political and Constitutional Transitions in North Africa: Actors and Factors" (Routledge, London, 2014).

Table of Contents: Introduction by Justin O. Frosini and Francesco Biagi; Ennahdha: Moderation and Compromise in Tunisia's Constitutional Bargain by Duncan Pickard; Egypt: A Constitutional Court in an Unconstitutional Setting by Nathan J. Brown; The Pilot of Limited Change. Mohammed VI and the Transition in Morocco by Francesco Biagi; Actors and Factors in Libya's Revolution by Karim Mezran and Eric Knecht; Algeria: The Outlier State? by John P. Entelis; Transitions from Authoritarian Rule following the Arab Uprisings: A Matter of Variables by Justin O. Frosini and Francesco Biagi.

Abstract: The transformations which are taking place in the Arab world are dynamic processes characterised by a number of variables that one can refer to as actors and factors. The implications of the Arab uprisings are important for the world at large; the Arab world's successes, and failures, at this crucial moment may well serve as a model for other nations. Political and Constitutional Transitions in North Africa: Actors and Factors focuses on five Northern African countries - Tunisia, Egypt, Morocco, Libya and Algeria - examining specific institutions and actors participating in the political upheavals in North Africa since 2011, and placing them in a comparative perspective in order to better understand the processes at work. This book addresses issues pertinent to North African and Middle Eastern Studies, comparative constitutional law, political science and transitional studies and it contains contributions by experts in all these fields. Providing a significant contribution to the understanding of events that followed the immolation of Mohamed Bouazizi in Tunisia, this book is a valuable contribution to North African Studies, Middle Eastern Studies, Comparative Constitutional Law and Transitional Studies.
The video of the book presentation held in Washington D.C. on February 26th, 2015, can be found here.

Other publications:
F. Biagi, North Africa and the Middle East After the Arab Uprisings: A New Separation of Powers?, in A. Baraggia, C. Fasone, L.P. Vanoni (eds.), New Challenges to the Separation of Powers. Dividing Power, Edward Elgar, Cheltenham, 2020, pp. 224-243.


F. Biagi, La giustizia costituzionale in Nord Africa e Medio Oriente in seguito alle primavere arabe, in Quaderni costituzionali, no. 3, 2019, pp. 645-664.


F. Biagi, Constitution-building in New Democracies: Comparative Perspectives, in Constitutional Principles in Palestine. Expanded Workshop Proceedings, MIFTAH, Constitutional Studies Center, 2019, pp. 14-23 (also translated into Arabic).


F. Biagi, The Separation of Powers and Forms of Government in the MENA Region following the "Arab Spring": A Break with the Past?, in Diritto pubblico comparato ed europeo, no. 2, 2018, pp. 381-421 (then republished in F. Biagi, J.O. Frosini, J. Mazzone (eds.), Comparative Constitutional History. Volume 1: Principles, Developments, Challenges, Brill, Leiden, 2020, pp. 123-163).


F. Biagi, Constitutional Developments in the MENA Region during Malta's EU Presidency, in M. Harwood, S. Moncada, R. Pace (eds.), Malta's EU Presidency. A Study into a Small State Presidency of the Council of the EU, Malta University Publishing, 2018, pp. 62-74.


F. Biagi, La Costituzione della Giordania, in L. Mezzetti (ed.), Codice delle Costituzioni. Volume VI.2 – Paesi islamici, Cedam – Wolters Kluwer, Milano, 2018, pp. 35-52.


F. Biagi, Women's Rights and Constitutional Implementation in the MENA Region: Challenges and Perspectives, in C. Padovani, F. Helm (eds.), Rethinking the Transition Process in Syria: Constitution, Participation, and Gender Equality, Research-publishing.net, 2018, pp. 143-155.


F. Biagi, The 2011 Constitution-making Process in Morocco: A Limited and Controlled Public Participation, in T. Abbiate, M. Böckenförde, V. Federico (eds.), Public Participation in African Constitutionalism, Routledge, London, 2017, pp. 55-68.


F. Biagi, Women's Citizenship and Rights in the MENA Region following the "Arab Spring": The Challenge of Constitutional Implementation, in E. Ferioli (ed.), La cittadinanza in Francia e in Italia: proposte di riforma e prospettive future, STALS – Panoptica Joint Issue, 1/2017, pp. 110-133.


F. Biagi, The Algerian Constitutional Reform of 2016: A Critical Analysis, in Global Jurist, vol. 17, no. 3, 2017, pp. 1-18.


F. Biagi, The Separation and Distribution of Powers Under the New Moroccan Constitution, in R. Grote, T.J. Röder (eds.), Constitutionalism, Human Rights and Islam after the Arab Spring, Oxford University Press, Oxford, 2016, pp. 495-512.


F. Biagi, Tra innovazione e continuità: la riforma costituzionale algerina del 2016, in Osservatorio costituzionale, vol. 3, 2016, pp. 1-25.


F. Biagi, Will Surviving Constitutionalism in Morocco and Jordan Work in the Long Run? A Comparison with Three Past Authoritarian Regimes, in Cambridge Journal of International and Comparative Law, vol. 3(4), 2014, pp. 1240-1259.


F. Biagi, The 2011 Constitutional Reform in Morocco: More Flaws than Merits, in Jean Monnet Occasional Papers, Institute for European Studies (Malta), n. 7/2014, pp. 1-19.


F. Biagi, La triplice sfida del Marocco, in Aspenia online, 2013, pp. 1-3.


F. Biagi, La Monarchia nella Costituzione del Marocco del 2011, in Percorsi costituzionali, no. 3, 2012, pp. 399-433.
Conference Presentations
International Conference: "Constitutional Transformations in the Arab World Following the Arab Spring: Comparative Models"

On February 7th - 8th, 2013 a two day Conference was jointly organised by the CCSDD, the Bologna Center of the Johns Hopkins University, and the Protection Project, Johns Hopkins University SAIS, Washington, D.C. The "Constitutional Transformations in the Arab World Following the Arab Spring: Comparative Models" conference brought together a diverse group of international constitutional scholars and policymakers to discuss the institutional actors and factors behind, as well as the substantive provisions of recent constitutional changes in the Middle East and North Africa (MENA) region. The program examined both the new constitutions recently drafted, as well as the promulgation of substantive amendments to existing constitutions, and likewise provided comparative perspectives with constitutional trends and realities in the Gulf Cooperation Council (GCC) monarchies, the Iraqi constitutional drafting experience, as well as with the Turkish model of constitutionalism. Expert participants included renowned scholars from countries including Egypt, Jordan, Morocco, Qatar, Tunisia, Turkey, as well as from Greece, Italy, and the United States.
Francesco Biagi presented a paper on "The King, the Reforms and the 2011 Constitution. A Democratic Transition in Morocco?"


F. Biagi, presentation of the paper "The Pilot of Limited Change. Mohammed VI and the Transition in Morocco", Faculty Lecture Series, College of Law of the University of Illinois, Champaign-Urbana, USA, April 2nd, 2013.


F. Biagi, presentation of the paper "Constitution-making and Implementation: Lessons from Morocco", Jean Monnet Annual Conference: "An Evolving EU Engaging a Changing Mediterranean Region", Dar l-Ewropa, Valletta, Malta, October 15th, 2013.


F. Biagi, presentation of the paper "Will Surviving Constitutionalism in Morocco and Jordan Work in the Long Run? A Comparison with Three Past Authoritarian Regimes" in the IXth World Congress of the International Association of Constitutional Law, Oslo, June 16th - 20th, 2014 (workshop on "The Constitution and Illiberal Democracies").


F. Biagi, "Recent Developments in Constitution Building Processes: The Case of Morocco", in the Congress "Constitution Building in Africa", Central European University, Budapest, July 4th - 5th, 2014.


F. Biagi, presentation of the paper "La Transizione Costituzionale in Marocco: Più Ombre Che Luci", in the Congress "Costituzioni e costituzionalismi nel mondo arabo-islamico", Università degli Studi "L'Orientale", Naples, Italy, December 4th - 5th, 2014.


J.O. Frosini, F. Biagi, presentation of the book "Political and Constitutional Transitions in North Africa: Actors and Factors" (Routledge, 2014), Johns Hopkins University SAIS Washington, Washington D.C., USA, February 26th, 2015 (with co-authors Nathan Brown, Karim Mezran and Duncan Pickard). The video of the book presentation can be found here.


N. Brown, D. Pickard, "The Political and Constitutional Transitions in Egypt and Tunisia: A Comparison" (co-authors of J.O. Frosini, F. Biagi, "Political and Constitutional Transitions in North Africa. Actors and Factors," Routledge, 2014), Johns Hopkins University SAIS Europe, Bologna, March 23rd, 2015.


J.O. Frosini, F. Biagi, presentation of the book "Political and Constitutional Transitions in North Africa: Actors and Factors" (Routledge, 2014), Bocconi University, Milan, March 24th, 2015 (with co-authors Nathan Brown and Duncan Pickard)