---
Publications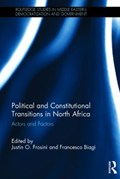 Justin O. Frosini and Francesco Biagi (eds), Political and Constitutional Transitions in North Africa: Actors and Factors, Routledge, London, 2014

The transformations which are taking place in the Arab world are dynamic processes characterised by a number of variables that one can refer to as actors and factors. The implications of the Arab uprisings are important for the world at large; the Arab world's successes, and failures, at this crucial moment may well serve as a model for other nations. Political and Constitutional Transitions in North Africa: Actors and Factors focuses on five Northern African countries - Tunisia, Egypt, Morocco, Libya and Algeria - examining specific institutions and actors participating in the political upheavals in North Africa since 2011, and placing them in a comparative perspective in order to better understand the processes at work. This book addresses issues pertinent to North African and Middle Eastern Studies, comparative constitutional law, political science and transitional studies and it contains contributions by experts in all these fields. Providing a significant contribution to the understanding of events that followed the immolation of Mohamed Bouazizi in Tunisia, this book is a valuable contribution to North African Studies, Middle Eastern Studies, Comparative Constitutional Law and Transitional Studies.

The video of the book presentation held in Washington D.C. on February 26th, 2015, can be found here.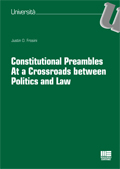 J.O. Frosini, Constitutional Preambles at a Crossroads between Politics and Law, Maggioli Editore, Rimini, 2012

Constitutions are often preceded by preambles that contain hortatory and sermonious language, but most legal scholars believe they are not truly operative. This book poses the question of whether that really is the case. Using the comparative method, this study endeavours to verify whether preambles are an integral part of the constitution, to what extent they are used as a tool of interpretation, whether they constitute a restraint to constitutional amendment and whether they are ever used as a true and proper parameter in constitutional review. The results indeed demonstrate that in several countries preambles have far more validity and effect than is generally recognised.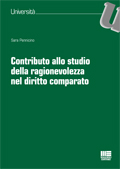 S. Pennicino, Contributo allo studio della ragionevolezza nel diritto comparato, Maggioli, Rimini, 2012

Inspired by Roscoe Pound's theory on the Materials of Judicial Decision (1923), the book addresses reasonableness as a form of scrutiny applied in Constitutional adjudication. The latter, in fact, serves as a vehicle for the ideal values of the interpreter, thus revealing the underlying spirt of Constitutions. The book opts for a comparative approach based on a historical analysis, focusing on the USSC case law of the so called Lochner era in order to prove the idea that any comparative study devoted to reasonableness as an interpretative tool should be solidly based on the verification of (historical) truth. In other words, it should aim at identifying the specific values that inspire, at a specific time and in a specific place, constitutional interpretation. Conceived to be an original contribution to the traditional Italian scholarship on the giudizio di ragionevolezza, the book is thereby written in Italian.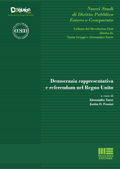 A. Torre, J.O. Frosini (eds), Democrazia rappresentativa e referendum nel Regno Unito, Collana del Devolution Club, Maggioli Editore, Rimini, 2012

"Democrazia rappresentativa e referendum nel Regno Unito" [Representative Democracy and Referendums in the United Kingdom] is the first volume of the Devolution Club Series on "Nuovi studi di diritto pubblico estero e comparato": for the first time in Italy a team of experts in comparative constitutional law offers to the scientific community an in-depth and up-to-date analysis of the referendums that have taken place in the United Kingdom. The aim of the book is to show that the referendum plays a crucial role in the constitutional order of a country which has been traditionally characterized by the principle of parliamentary sovereignty, i.e. by the hegemony of the representative democracy. The volume describes the use of the referendum in the United Kingdom in different fields of national politics (i.e. European Union, devolution, electoral reforms and regionalization) and sheds light on the main constitutional, institutional and political challenges of "referendum democracy".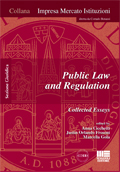 A. Cicchetti, J.O. Frosini, M. Gola (eds), Public Law Regulation. Collected Essays, Maggioli Editore, Rimini, 2011

The relationship between public law and economics has taken on a renewed significance over recent years due to the broad range of objectives recognized as being in the public interest and pursued by national and supranational policies. This collection of essays highlights the role of public institutions with regard to issues of a general nature ranging from the use of energy resources to the regulation of banking and financial services, from respect for the environment to the protection of cultural heritage, from fiscal devolution to the role of constitutional and supreme courts in economic transitions. The essays are based on a series of seminars held at the Rimini Campus of the University of Bologna's Faculty of Economics in cooperation with the Center for Constitutional Studies and Democratic Development (CCSDD).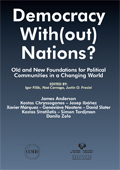 I. Filibi, N. Cornago, J.O. Frosini (eds), Democracy With(out) Nations? Old and New Foundations for Political Communities in a Changing World, Servicio Editorial de la Universidad del País Vasco, 2011

With a truly cross-disciplinary approach, this collective work examines some of the most critical challenges shaping contemporary transformations of democracy. In contrast to one-dimensional discussions prevalent in academic literature, which tend to concentrate almost exclusively on certain specific problems such as the crisis of representation, the importance of democratic deliberation, the promises of participative democracy or the implications of new technologies in democratic life, this volume discusses a wider variety of concerns. The contributors, who come from diverse fields including comparative constitutional law, political theory, international law, political geography and international relations, offer an unusual blend of heterogeneous arguments, all of which nonetheless are equally relevant for a better understanding of the current challenges of democratic politics. Going beyond the ample celebratory literature on the virtues of global cosmopolitan democracy, the contributors share, in spite of their very different backgrounds and theoretical orientations, a critical view of the many challenges that conventional understandings of democracy face today. This book is the result of a cooperation between the University of the Basque Country and the Center for Constitutional Studies and Democratic Development (CCSDD), co-founded by the Faculty of Law of the University of Bologna and the Johns Hopkins University SAIS Bologna Center. It has been published thanks to the generous support of the George Lawrence Abernethy Endowment.


Igalo Series

All books listed below are available at CLUEB catalogue.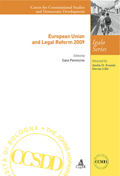 M. Milenkovic (ed), European Union and Legal Reform 2012, Clueb, Bologna, 2013

Č. Pištan (ed), European Union and Legal Reform 2011, Clueb, Bologna, 2013

F. Biagi (ed), European Union and Legal Reform 2010, Clueb, Bologna, 2013

S. Pennicino (ed), European Union and Legal Reform 2009, Clueb, Bologna, 2010





Lecture Series

The Center for Constitutional Studies and Democratic Development Lecture Series is available here.